Options
Motor drives and controls
Encoders and digital readouts (DRO)
Vacuum carriage top and controller to hold sensitive lightweight parts safely and securely
Custom bolt patterns
Hydrostatic Pump Unit (HPU)
Accessories
Custom fixturing and work holder tooling
Gage stands
MicroTIR electronic gage packages

µTIR-10: display with single lever-type electronic indicator
µTIR-11: display with single lever-type electronic indicator and encoder interface
µTIR-20: display with dual lever-type electronic indicators
µTIR-21: display with dual lever-type electronic indicators and encoder interface

Granite surface plates
Structural steel frames with passive vibration isolation leveling feet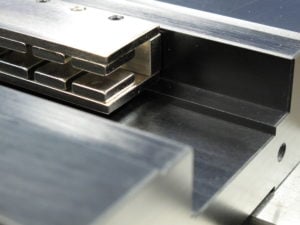 With proper selection and integration of high-performance brushless DC servo motors ABTech's hydrostatic linear stages provide ultra-smooth and precise linear motion. With high torque, high performance motor drives, ABTech's stages are designed to accommodate a wide range of precision motion applications typically found in precision machining and grinding. Our motion experts will gather your specific requirements and work closely with our motor suppliers to create/select a motor drive that suits your specific application. Whether you need sub-micron position accuracy with minimal settle time and stringent following error specifications, or high-speed constant motion, or a combination of both there is an ABTech linear stage that will meet your needs.
We use 2 ABTech air-bearing spindles with tip/tilt and centering capability in our facility. These units are used for precision assembly and final metrology. We have never had an issue with either one, and the ABTech team is a great partner for us. We will be adding more systems as our young organization continues to grow.

Jayson Tierson

President
Vertex Optics
Made in the U.S.A of U.S. and imported parts
Every product we sell exemplifies our company-wide commitment to "Pride in Precision" craftsmanship. To that end, all of our products are designed, manufactured, and tested exclusively by ABTech at our New Hampshire facility.